Every day, our climate is being threatened by a host of factors. The Environmental, Social and Governance score (ESG score) gives companies useful insights into these factors and helps them deal with the associated risks.
The rise of sustainable finance solutions
Our world is facing huge challenges in the field of sustainability, including climate change, an aging population and inequality. The ESG – better known as the Environmental, Social and Governance score – is a new yardstick and tool that financial players can deploy. This score shows how sustainable a company is, something that helps us to tackle the challenges we are faced with and work towards achieving an ESG-aware world.
The SFDR makes the ESG more transparent
The Sustainable Finance Disclosure Regulation (SFDR) is designed to ensure that the ESG score is transparent. For instance, it sets a number of goals that companies can achieve in order to improve their ESG score. Our historic data shows whether making small adjustments to companies and their goals in recent years has already led to major improvements.
SFDR requirements and focus areas
The SFDR is still in phase 1, which relates to the imposition of ESG information requirements on companies in the financial sector. In 2023, the SFDR will switch over to more detailed disclosure requirements known as 'RTS', our data can be used as a measuring system for it. Currently, there is still a very broad focus but a number of topics have already been selected, such as emissions and emission levels, which the ESG focusses on too.
Climate impact in decision-making
The Taskforce on Climate-related Financial Disclosure (TCFD) is a framework for the financial sector that its institutions can use to factor the impact of climate change into their business processes and decision-making. The aim is to catalogue and analyse the potential impact that climate change is having on their primary business processes. The TCFD framework also gives financial companies a useful tool for providing transparent information.
The financial impact of environmental issues
Climate change and other environmental problems are getting worse, which we have for instance seen in the increasing frequency of forest fires and floods, as well as in nitrogen emissions and other factors that are now threatening our climate. These risk factors pose a direct risk to governments, economies and businesses. Those organisations that work on improving their environmental awareness give their investors and their banks/financial institutions greater stability.
Improve your ESG score with Caeli's assistance
Data is the bedrock of a fully-fledged ESG policy. Data helps companies to use accurate insights to take the right decisions. At Caeli, we offer a range of products in this field, including the
Carbon Emission Monitor
and the
Nitrogen Insights Monitor
, which provide you with useful information on the types and extent of your emissions. You can then use these insights to make environmental goals more effective and thus improve your ESG score.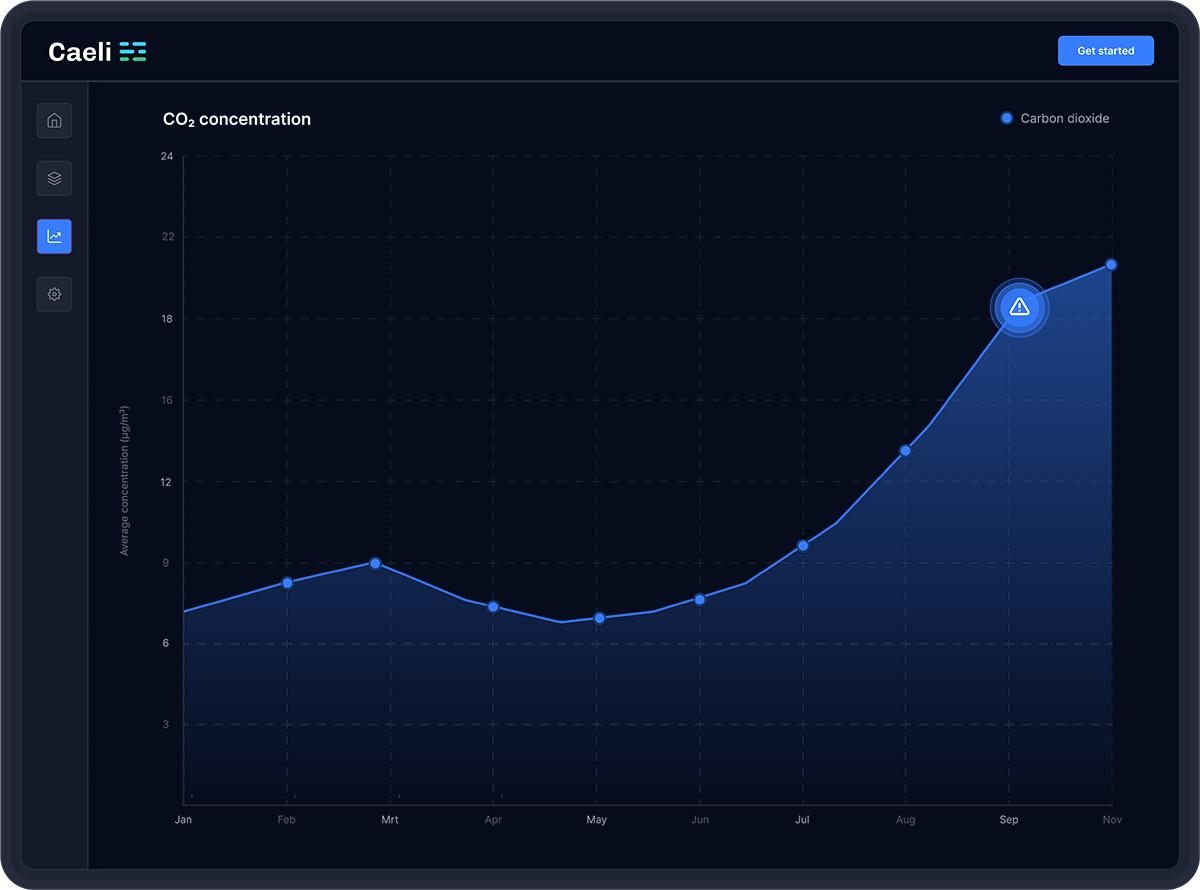 Are you interested in the possibilities? Contact us and our team will contact you shortly.